Case Study of Good T&L Practices > List of Case Studies > The Inter-institutional Team for the AIE-AR Project
Biography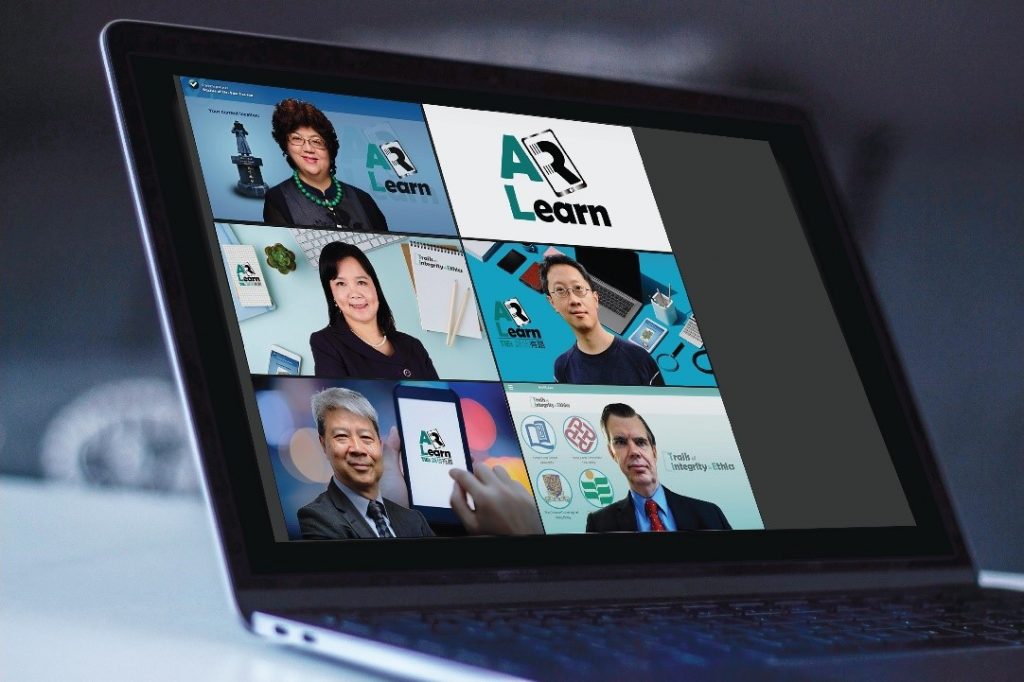 Dr Eva Y W WONG (HKBU)
Professor Siu Yin CHEUNG (HKBU)
Professor Siu Cheung KONG (EdUHK)
Professor Lai Chuen Paul LAM (CUHK)
Dr Andrew MORRALL (PolyU)
Awardee of 2020
(Category: Teams)
Team Leader
Dr Eva Y. W. WONG, PFHEA
Director (retired), Centre for Holistic Teaching and Learning
Consultant to Vice President (Teaching and Learning)
Hong Kong Baptist University
Eva sets the targets and direction for the project. She has been involved in roadshows, experience-sharing sessions, recruiting overseas institutions and enticing subject teachers to join to enact the planned alignment of curricular and co-curricular activities.
Team Members
Professor Siu Yin CHEUNG, MH
Professor, Department of Sport, Physical Education and Health
Hong Kong Baptist University
Siu Yin has pioneered students-as-partners by having students and alumni create learning materials for TIE-SR. Under COVID-19, she revised TIE-SR for virtual delivery with a competition organised amongst institutions with sports subjects.
Professor Siu Cheung KONG
Professor, Department of Mathematics and Information Technology
Director, Centre for Learning, Teaching and Technology
The Education University of Hong Kong
Siu Cheung led the UGC-supported Learning Analytics project (HKIEd7/T&L/12-15), which analysed English and Chinese texts collected from the AIE-AR project. He enabled the successful transplantation of TIE-General to EdUHK and headed the ensuing adaptation of the virtual TIE-General-EdUHK.
Professor Paul LAM, SFHEA
Associate Professor, Centre for Learning Enhancement and Research
Associate Director, Centre for eLearning Innovation and Technology
The Chinese University of Hong Kong
Paul led the project at CUHK by involving academic colleagues in TIE-General-CUHK, TIE-BUS and TIE-SR.
Dr Andrew MORRALL
Senior Teaching Fellow
English Language Centre
The Hong Kong Polytechnic University
Andy has amplified the scenario design efforts by drilling deep into various aspects of ethical dilemmas, making PolyU's scenarios adaptable to all partners.
Teaching Philosophy
Part I: Teaching Philosophy
Introduction
In a fast-paced world with increasingly higher consequences for misconduct, it is critical to provide students with guidelines for acting with integrity. These have been, and still are, amongst the most important goals of tertiary education.
The AIE-AR Team's approach is to be student-centred, working with students as partners and change agents, whilst adopting cutting-edge technology to explore and integrate moral and ethical issues into the curriculum and co-curriculum. The Team wants students to think more deeply about moral and ethical issues, explore the consequences of their actions and change their behaviours appropriately.
In academic year (AY) 2019/20, Hong Kong faced the twin chaos of social unrest and COVID-19, the need to learn abstract but important concepts such as AIE became more acute. Consequently, the Team adapted its physical augmented reality (AR) 'learning trails' for online deployment. While the online experiences may not be as realistic as the physical ones, it was gratifying to see that learning the AIE lessons transcended the mode of delivery.
The AIE-AR extended team, comprising over 20 individuals, is led by HKBU and includes various education professionals at HKBU and the three partner universities (CUHK, EdUHK and PolyU). In AY2019/20, locally, HKU joined and piloted a virtual TIE. Moreover, with funding support from the United Board (UB) of Christian Higher Education, three international institutions joined the project: Silliman University (SU, Philippines), Marian College Kuttikkanam (MCK) and Lady Doak College (LDC) in India.
The Team deliberately selected AR and mobile technologies. The advances and quick pace brought on by new technologies have also put students under pressure to perform quickly and at a high level. The convenience of copy-and-paste, for instance, makes plagiarism easier than ever, and even simple word-processing software can catalyse unethical behaviours or low-integrity actions.
Learning important lessons does not need to be a chore. The Team's 'Trails of Integrity and Ethics' (TIEs) are targeted squarely at the most familiar gaming techniques that young people already use, navigate, and enjoy while using their phones/devices. The first TIE was launched in early 2015, and the release of the other 11 trails has followed since; the 12th one went live at SU in March 2020. As of September 2020, nearly 10,000 students at the partner universities and secondary schools have explored in the TIEs.
Situated Learning with Case Studies
Situated learning "emphasises the importance of the 'person-plus-the-surroundings' concept, where the 'surroundings' include learning environments, activities, and peers". The Team also takes advantage of collaborative learning, as scenarios include follow-up discussion and debate. The Team's approach aligns with newly emergent ideas about gaming in education, that places more control for learning in the hands of the learner. In AY2019/20, data on the virtual trails showed comparable results with their physical counterparts, suggesting that both were effective and should be deployed as appropriate.
The Team draws from its range of expertise, combining grounded instructional design, applied technology, data and learning analytics, education research, disciplinary subject matter and co-curricular expertise (business, sports and recreation, service learning, language acquisition, hall tutor training and laboratory safety).
TIE-General is operational in all four partner institutions, and institutionalised at HKBU and EdUHK for first-year students. Thanks to press reports, the AIE-AR project has received the attention of local government agencies. The Independent Commission Against Corruption of Hong Kong signed an MOU with HKBU and two anti-corruption cases were incorporated into TIE-General-HKBU during the AY2019/20 orientation. The Team has learned rapidly that some TIEs are likely only to be functionally effective in physical settings, some in both, while some are more relevant for situations in online education. The Team invited students to design engaging AIE scenarios to better align with the tastes, needs, and interests of their peers. In TIE-SR (Sports & Recreation), students and alumni collaborated to design 30 scenarios on sports ethics and professional behaviours, taking a position of moral leadership. In TIE-BUS (Business), students developed appropriate scenarios on business ethics for their younger counterparts in secondary schools.
Teaching Ethics Supported by Technologies
Teaching research ethics is an important and underserved area in higher education, where case studies have emerged as the most effective pedagogical method. Unlike many case studies used in teaching practical ethical reasoning, the Team's scenarios are anchored to the small and immediate real-life decisions made by students. The Team's approach has combined case studies with situated learning, bringing the cases into real-life settings using technologies.
The TIEs are deployed using an app called AR-Learn, designed specifically for the deployment of learning trails. In AY2019/20, the Team has an additional app, AR-Trails, to enable trails outside Hong Kong and online. Both apps have built-in support for geo-location mapping, Bluetooth, image recognition and QR code scanning, enabling the triggering of relevant content from a repository of AIE scenarios at appropriate checkpoints. The four checkpoints on TIE-General, a learning trail with AIE issues common to all aspects of the academic curriculum, were implemented at all partner institutions. At each checkpoint, students face moral dilemmas that could arise in such a location. Students collaboratively decide how to respond before receiving feedback on their choices. Blended with subsequent online or face-to-face deliberations, this approach helps instil relevant AIE concepts in students and leads them to think critically about ethical issues.
Leadership in, and Scholarship of, Teaching and Learning
Team members have presented at 23 professional conferences. At the time of writing this document, there are 17 journal articles/book chapters in refereed publications and 13 news articles in the media, including interviews with students. AIE-AR has received attention in the educational technology arena, has been showcased online and highlighted in 10 publications written by others. Three of the 23 conference presentations were invited keynote addresses by Dr Wong at the prestigious 37th Original Lilly Conference (2017) held in the US, the 2018 International Conference of the Hong Kong Chapter of the US-based Association of Educational Communications and Technology, and the first ever Lilly-Asia Conference held in May 2019. Amidst the worldwide lockdown imposed by COVID-19, in April 2020 team members highlighted the virtual TIEs as examples of how teaching and learning could continue in two international webinars hosted by the United Board of Christian Higher Education and the UK Advance HE, attracting over 1,200 participants from 20 countries/regions worldwide.
Special international recognition for the project includes being 'Highly Commended' in the 2019 Team Technologist of the Year Award, Association of Learning Technology (UK), and winning the Best Chapter Award in IAmLearning: Mobilizing and Supporting Educator Practice (Power et al., 2017). AIE-AR has also been showcased on Drexel University Online's 'Virtually Inspired' website (since 2017); received a Certificate of Merit in the e-Learning Excellence Awards, Academic Conferences and Publishing International Limited, UK (2016); and obtained the Silver Award (Regional Asia) at the Wharton-QS Reimagine Education Awards (2015). The project was highlighted in a 2018 special issue of the Journal on Excellence in College Teaching. In 2020, it won the most prestigious Teaching Award issued by the University Grants Committee (UGC) of Hong Kong.
The video by the UGC showcasing the Team's teaching philosophy can be accessed here.
︽Back to top
Achievement/Good Practices
Part II: Achievements/Good Practices
Engagement and Commitment in Continuous Professional Development
The Team's vision on continuous professional development is to have a clear understanding of aims and objectives, deliverables and learning outcomes, all informed by experience and evidence.
For their feasibility investigation, the Team needed to see an AR trail in action. In September 2014, Dr Wong led a delegation to study Singapore's heritage trails. After sharing the experiences and observations, the first TIE was created and piloted at HKBU in November 2014.
AIE-AR also drew from an existing Learning Analytics (LA) project led by Professor Siu Cheung Kong. Professor Kong's system uses text-mining to produce learning analytics for data analysis. Apart from the platforms used in the AIE-AR project, all team members learned the LA system to interpret analytics from the early TIEs, iteratively used for improvement and further development.
The Team's collaborative learning also benefits from partners outside of Hong Kong. SU (Philippines) did not just copy the Team's AR trails, they explored TIE-General-HKBU and the design principles, then developed a TIE from their own stories, environments, and most importantly, their local needs.
Experience Sharing amongst Partners and with Other Academics
The role and responsibility of each partner institution included working together to deliver targets and to help students achieve the learning outcomes. The Team planned each phase of the project and monitored its progress. Regular project meetings played a vital role in ensuring trust, collegiality and team-building. At each meeting, partners would report progress, outline challenges with potential solutions and list ensuing work items, including what expertise was needed and who would partner on the task(s).
Regular roadshows were also organised amongst the partners, showcasing the Team's progress and challenges. By disseminating TIE activities amongst team members' campuses, other colleagues became interested and joined the project, resulting in the initial testing of TIE-BUS and TIE-SR at CUHK and PolyU. With activities taking place in different locations, the project evolved organically through shared expertise. The Team truly experienced 'continuous' professional development via their growing circle of participants.
Sharing successes and failures of teaching innovations is an important activity for continuous professional development; the Team treasures the value of collaborative efforts in disseminating their experiences and practices. A highlight in this regard was the Lilly Conference in 2017, at which Professor Kong, Dr Wong and Dr Morrall presented on the project personally or via other colleagues. In 2018, a special issue on academic integrity and ethics was published by the Journal of Excellence in College Teaching, in which 7 out of 10 papers were from the project.
Funding from the United Board of Christian Higher Education was meant to assist the Team to visit MCK, LDC and SU to assist them in establishing their physical AR trails, but COVID-19 upset these plans. Undeterred, the Team continued their collaboration online, with both MCK and SU piloting their respectively revamped TIEs as online teaching and learning activities during lockdowns. Despite the virus outbreak, the Team were still able to highlight its virtual TIEs in two international webinars in 2020, each with over 600 participants from around 20 countries/regions.
︽Back to top