Case Study of Good T&L Practices > List of Case Studies > Joint University Mental-Wellness Project Team
Biography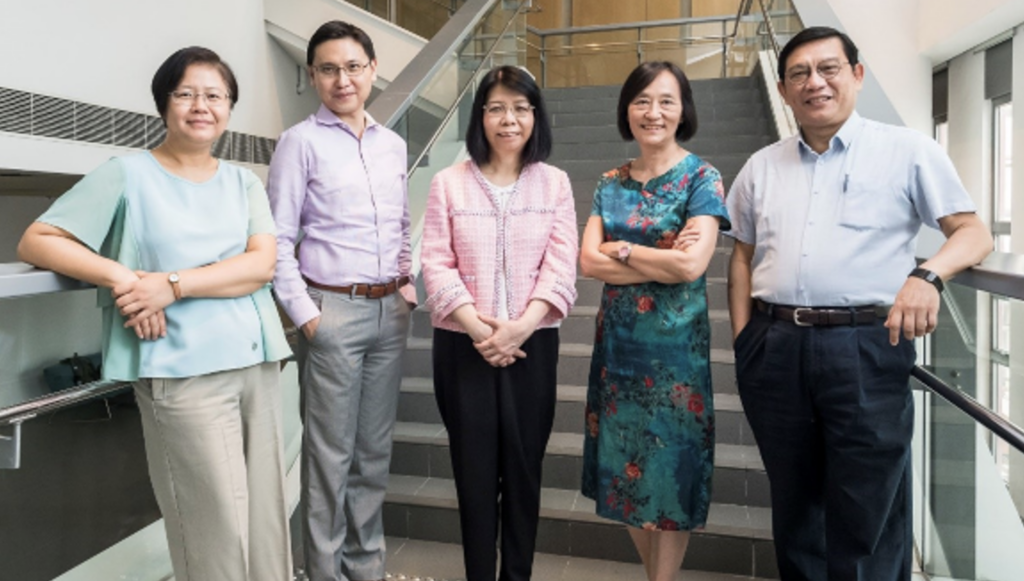 Joint University Mental-Wellness Project (JUMP) Project Team
Professor Sylvia KWOK LAI Yu Ching (CityU), (Middle)
Professor Daniel WONG Fu Keung (HKU), (Far right)
Dr TO Siu Ming (CUHK), (Second left)
Dr PAN Jiayan (HKBU), (Far left), and
Miss Loretta LEUNG Mee Kuen (EdUHK), (Second right)
Awardee of 2021
(Category: Teams)
Biography of Joint University Mental Wellness Project (JUMP) Team
Team Leader
Professor Sylvia KWOK LAI Yuk Ching
Associate Head (Research and Postgraduate Education)
Convenor, Positive Education Laboratory
Professor, Department of Social and Behavioural Sciences
City University of Hong Kong
Professor Kwok is a leading practitioner in the field of positive education. Through her work, she teaches positive psychology theory and concepts and their applications to students and to other practitioners. She has initiated cross-university collaborations through The Joint University Mental-Wellness Project (JUMP) project to promote positive education, extend knowledge exchange, expand the coverage to benefactors, and build a community of practice in the field of positive education.
Team Members
Professor Daniel WONG Fu Keung
Professor, Department of Social Work and Social Administration
The University of Hong Kong
Professor Wong has extensive experience in running evidence-based psychosocial interventions on mental health issues. He has contributed to the conceptualisation of the JUMP project, to the development of its teaching pedagogy, and to project evaluation and research activities.
Dr TO Siu Ming
Associate Professor, Department of Social Work
The Chinese University of Hong Kong
Dr To is an authority on transformational learning and service learning. In this project, he incorporated components of positive education into social work education and service-learning programmes. He has also promoted the project, recruited participants, contributed to the project's conceptualisation, and assisted in the development of its teaching pedagogy.
Dr PAN Jiayan
Associate Professor, Department of Social Work
Hong Kong Baptist University
Dr Pan has worked to incorporate the theory and concepts of positive education into a General Education course and to develop students' awareness of and skills regarding positive psychology. She contributed to the project's design, supported its implementation and shared her expertise in project evaluation for resilience and wellbeing research.
Miss Loretta LEUNG Mee Kuen
Ex-Assistant Director of Student Affairs, Student Affairs Office
The Education University of Hong Kong
Miss Leung ran education activities to encourage staff to expand their knowledge of positive education. She received a grant and designed and conducted workshops on positive education for students and staff. She also supported the project's design and implementation, promoting projects and recruiting participants.
Teaching Philosophy
Part I: Teaching Philosophy
People with strong mental health and a positive sense of wellbeing have a solid foundation with which to handle the inevitable stresses of life. Unfortunately, university students in Hong Kong have suffered many frustrations in recent years, including intense competition for job opportunities, obstacles to social mobility, and the uncertainty of their futures because of unpredictable societal challenges. The level of distress exhibited by our students motivated the members of the Joint University Mental-Wellness Project (JUMP) team to adopt positive education as a key strategy to alleviate this distress and contribute to the sound mental health of tertiary students in Hong Kong. In the long term, this project will benefit both the students and society as a whole
Positive Transformational Learning Pedagogy
Positive education, or the application of positive psychology in education, is a pedagogy that fosters systematic and transformational life changes. A positive education pedagogy was used in this project because it integrates evidence-based practices for improving student wellbeing with effective educational pedagogy and practices, helping students to thrive and succeed academically, socially, and emotionally. Studies have demonstrated that positive education is effective in decreasing students' mental health problems and enhancing their wellbeing (Seligman, 2018). A positive education pedagogy facilitates student wellbeing through a combination of transformational learning principles and wellbeing literacy. The Joint University Mental-Wellness Project (JUMP) team formulated a project structure that incorporated both elements in a six-level transformational learning process. This integration is called the "Positive Transformational Learning Pedagogy."
With reference to the concepts of positive psychology developed by Professor Martin Seligman, the JUMP team identified two key components of this project. The first component consisted of the character strengths that every individual possesses and that are applicable across all aspects of life. These strengths are categorised into six universal virtues (see Figure 1), and the development of these virtues leads to a meaningful life (Peterson & Seligman, 2004).
The second component was the five elements of PERMA: positive emotions, positive engagement, positive relationships, positive meaning, and positive accomplishment (Figure 2). These are key aspects of positivity and are critical for long-term wellbeing (Seligman, 2018). The JUMP team developed activities to grow students' understanding of these concepts and to foster their abilities to enhance their own wellbeing.
Six-level Transformational Pedagogical Framework
The JUMP team then designed the six-level transformational pedagogical framework (Figure 3), which was used to deliver positive education content on character strengths and PERMA at the participating universities. The team developed a range of activities based on this framework to encourage students to "learn it, live it, reflect on it, conceptualise it, apply it and embed it." "Learn it" referred to learning positive education theories and concepts. "Live it" encouraged students to live out the principles of positive education in their daily lives. University students were prompted to reflect on what they learned and experienced and to conceptualise their experiences by analysing and synthesising the concepts and principles of positive education. This helped the students to consolidate their existing knowledge and to develop new knowledge. To "apply it," students designed and conducted positive education programmes for other students or the community. These activities helped students work to "embed" a positive education atmosphere in the university and the community and to disseminate their knowledge to other professionals and the public.
JUMP Activities
The activities for all six levels are outlined in Figure 4. The activities were carefully designed to evolve from being teacher-led on the "learn it, reflect on it" end of the framework to becoming student-led on the "apply it, embed it" end of the framework. As students gained knowledge of positive education, they were supported as they moved from a participative learning role to a role in which they organised and were responsible for designing, disseminating and embedding a positive education ethos in both their universities and communities. This student-led pedagogical approach placed students at the centre of the process and encouraged them to develop greater autonomy. It built their confidence and competence in critical thinking and analytical and interpersonal skills and strengthened their identity as responsible citizens.
Fourteen themes were presented during the workshops, and seven themes were presented in the camps. As seen in Figure 4, the purpose of the workshops and the camps was to implement the first four levels of the framework. The content delivered during these stages included information on the 24 character strengths (Figure 1) and the five domains of positive education (PERMA) (Figure 2). The most popular topics were delivered on more than one campus to increase student attendance. Students were then given the opportunity to consolidate their learning from the first four levels in the context of a study tour to Taiwan during the "apply" phase. The tour provided the students with space and opportunities for in-depth interaction and communication with each other, which increased students' positive emotions and the quality of their interpersonal relationships.
The mental wellness festivals provided students with opportunities to reflect on, conceptualise and apply their knowledge and to embed positive education in the wider university community. The process of organising the festivals facilitated transformational learning. Students engaged in the process of interdependent discovery as they discussed and reflected on the strategies that they could use to introduce the concepts of character strengths and PERMA to others. Students from all five participating universities worked in groups to design and implement projects that integrated positive education content with their own innovative ideas, drawing on their past experiences, expertise, talents, interests and study programme content. This preparation resulted in three festival workshops. The themes of the festival were 1) Be A Unique Detective, 2) ReLife, and 3) A Cosy Hygge Night.
The community projects offered students another platform to apply the final four elements of the transformational framework. Students formed teams and participated in 20 community projects designed to promote mental wellness in the community. Each team identified a target group at the university, at local schools, or in the community. They analysed their target group's needs and the specific services they wanted to provide. They formulated a proposal and a detailed implementation plan and then implemented and evaluated their programmes. These community projects enabled the students to both empower the wider community and to develop their understanding of positive education through hands-on activities. Examples of the community projects included 1) Bye Hi-Bye Friends; 2) Applying Character Strengths in Primary Students' PE Lessons; 3) Fly Away Annoyance-Cheering Pack; 4) Overcookies; and 5) Positive Psychology Classroom Activities.
An online international conference was held through Zoom in August 2020. The JUMP team presented on the conference theme of "Diverse Practices of Positive Education." The conference hosted nearly 1,100 attendees, including academic staff, primary and secondary school teachers, social workers, and students and provided an opportunity to promote the transformational framework developed in the project and to spread knowledge of the benefits of positive education to a wider audience.
A video by the UGC showcasing the team's teaching philosophy can be accessed here.
︽Back to top
Achievement/Good Practices
Part II: Achievements/Good Practices
Effectiveness of JUMP
Over 4,000 university students participated in JUMP. Feedback from the participants has been very positive. The positive impacts of JUMP have included:
1. Wellbeing literacy: Character strengths and PERMA
The participants reported that they gained a deeper understanding of positive education, including PERMA and character strengths.
2. Mental wellness and resilience
The students learned to apply positive education concepts and skills to improve their wellbeing both in their studies and in their everyday lives. An Experience Sampling Method mobile app was utilised to record changes before and after the study tour, and the results indicated that the participants more frequently experienced positive emotions and flow states (being engaged in tasks) in their studies and daily lives after the study tour.
3. Peer learning
The students reported that they learned through sharing and discussing their ideas and experiences. The learning community that was created for the students enabled them to cultivate themselves by expanding on their character strengths through the application of PERMA.
4. Leadership and collaboration
The students' leadership skills were fostered through JUMP's focus on positive purpose, team building, and positive relationships. The students finished the project with new leadership skills and the will to continuously strive to achieve their best selves and to act as agents of positive change.
5. Impact on the wider community
JUMP provided the participants with opportunities to build long-term and ongoing relationships within universities, the education and social welfare sectors, and the community through the development of community projects. The students provided services to 1,500 people in the wider community, including primary and secondary school students and the general public.
Generalisation to other Disciplines
The Positive Transformational Learning Pedagogy can be applied to teaching in all disciplines, as this teaching framework is designed to enhance the well-being of all students.
Professional development for university staff
Two professional development workshops were conducted for university staff, as it is essential that both academic and administrative staff are able to identify students who may be struggling with their mental health early on and to provide initial support to these students. A total of 246 staff participated in the workshops. Feedback from the participants was positive, with an average satisfaction score of 5.6 out of 6 points.
Community projects
A total of 1,500 people joined JUMP's community projects, which were organised by the university students. The participants came from primary and secondary schools, universities, and the public.
International conference
The online international conference held in August 2020 attracted nearly 1,100 participants, including primary and secondary school teachers, social workers, and professionals such as counsellors and psychologists. The participants commented that the conference was informative and insightful and that it provided many strong examples and case studies to guide their future practices.
Funding support
The success of the project has attracted HK$6 million funding from the Quality Education Fund, the Yan Tak Charity Fund Limited, and the Wofoo Charity Fund to launch positive education projects in local primary and secondary schools in the coming years.
︽Back to top